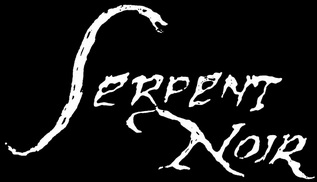 (English / Română)
Serpent Noir is a highly creative Greek band cast forth by Yiannis K. in 2006 as a direct consequence of working within the nightside spiritual spectrum. Musically wise it would be best described as borderline between black and death metal, being an inspired quintessence of both genres. It is intensely ritualistic, each song bleeding its magical essence on the altar of the Dragon. The music is deeply interconnected with its guiding concept, as to the astounding plethora of demonic vibrations there is added an equally consistent lyrical output, sometimes surprisingly explicit.
The honorable debut Sanguis XI was an unexpected apparition, revealing experienced musicianship and a firm rooting in what is generally termed old school sound. Although it was hard to convey a first impression, I was unavoidably possessed by the whole mass after repeated auditions. The
irresistible
song that kept me anchored to its grim countenance was The Disputers. Another highlight is the intense Ritualis Draconis - I simply adore how the guitar touches and enriches the whole atmosphere under the trembling impact of the bongos.
Each release displays an unique character. If the first was to reveal its fury after consequent auditions, the full-length struck me from the first note, making its entry with a straightforward rhythmic assault. Allies from the Black Sun Universe casted aside any sign of resistance with its surprising catchiness and distinguished ecstatic insertions, exposing a perfect intertwining between the rapid passages and the monotonous breaks. It radiates devotion, evoking hymns meant to stir up the Inner Fire to assist into further diving into the realms of Edom. M. Hakola brings a great drumming contribution to this album, Ofermod being one of the closest bands to which Serpent Noir can be related, judging by the weight of the magical atmosphere. The vocalist is an excellent choice for this formula, his remarkable presence raising the intensity of the musical force to luciferian heights, evoking depth and pathos with each intonation. There is also an exalting solo intervention from T. Eriksson from Saturnalia Temple on Open Up the Shells, boosting the overall dynamic of the song. Not to mention Timo Ketola's expressive cover portraying the ascent of the Red Dragon throughout the nine flames of the Reversed Tree.
The tracks from the split with Andramalech hint towards a new direction. The metal track is longer and is constituted by a variety of passages, bearing an accentuated black metal feeling. The transition from one passage to another is occasionally reinforced by ambient components, chanting once again amplifying the intense flow of the current. Archfiend's vocal imprint has also changed to a more darkened manifestation. The introductory track Transcendental Perception lives totally to its name, acting as a gateway for shamanic incursions; the whispers and chants are strengthened by a surge of ominous cacophony. The cycle of their magical framework is suitably closed with another ecstatic auditive manifestation.
The band has made its first live appearances at events such as Incubate and Occult Black Death Metal Festival 5 and yet preparing more to come for the future. Another full-length is in the workings (see
Erotomysticism
), which will comprise contributions from T. Karlsson (concept), C. Johnsson, T. Eriksson. Given its increasing refinement with each release, I am more than eager to await Serpent Noir's future incarnations.
:::::::::::::::::::::::::::::::::::::::::::::::::::::::::::::::::::::::::::::::::::::::::::::::::
Serpent Noir
sunt o trupă grecească deosebit de creativă înființată de Yiannis K. în 2006 drept o consecință directă a lucrării în spectrul spiritual nocturn. Din punct de vedere muzical ar fi cel mai bine descrisă drept borderline între black și death metal, fiind o chintesență inspirată a ambelor genuri. Prezintă o intensitate ritualistică, fiecare piesă sângerând esența magică pe altarul Dragonului. Muzica este adânc legată de conceptul ce o ghidează, căci în ce privește multitudinea uluitoare de vibrații demonice li se adaugă o consistență a versurilor pe măsură, uneori surprinzător de explicite.
Debutul onorabil Sanguis XI din 2010 a fost o apariție neașteptată, evidențiind experiență muzicală și o împământare fermă în ceea ce este în general numit sunet old school. Deși a fost greu să-mi conturez o primă impresie, am fost posedată inevitabil după audiții repetate, piesa irezistibilă The Disputers ancorându-mă de fiecare dată în înfățișările sale sinistre. O altă mențiune ar fi intensa Ritualis Draconis - pur și simplu ador cum impactul tremurând al chitării îmbogățește atmosfera generală, alături de folosirea bongos-urilor.
Fiecare material lansat deține un caracter unic. Dacă primul a trebuit să-și dezvăluie furia după ascultări consecutive, full-length-ul m-a tulburat de la prima notă, făcându-și intrarea cu un asalt ritmic direct. Allies from the Black Sun Universe a înlăturat orice formă de rezistență prin catchiness și distinse inserții ecstatice, expunând o împletire perfectă între pasajele rapide și cele monotone. Radiază devoțiune, evocând imnuri menite să stârnească focul lăuntric pentru a asista scufundării în tărâmurile din Edom. M. Hakola aduce o contribuție excelentă la partea de tobe, Ofermod fiind una din cele mai apropiate trupe cu care pot fi asemănați Serpent Noir, judecând după greutatea atmosferei magice. Vocalistul este o alegere grozavă pentru această formulă, prezența sa remarcabilă ridicând intensitatea forței muzicale la înălțimi luciferice, evocând profunzime și patos cu fiecare intonație. Totodată se regăsește o intervenție solo exaltantă a lui T. Eriksson de la Saturnalia Temple pe Open Up the Shells, mulând dinamica piesei. Să nu mai menționez de cover-ul expresiv al lui Timo Ketola evidențiind ascensiunea Dragonului Roșu prin cele nouă flăcări ale Copacului Inversat.
Piesele de pe materialul split cu Andramalech din 2013 indică o evoluție către o direcție nouă. Piesa metal (Shadow as a Portal) este mai lungă și este constituită dintr-o varietate de pasaje, purtând o amprentă black metal accentuată. Tranziția de la un pasaj la altul de obicei se face prin componente ambientale, cântările ritmice amplificând de fiecare dată curgerea intensă a curentului. Particularitățile vocale ale lui Archfiend totodată s-au preschimbat în manifestări mult mai întunecate. Intro-ul Trascendental Perception își merită pe deplin numele, acționând precum un portal în scopul incursiunilor șamanice; șoaptele și cântările sunt sporite de un flux de cacofonie spurcată. Ciclul cadrului lor magic este închis corespunzător cu o ultimă manifestare ecstatică.
Trupa a avut apariții live la evenimente precum Incubate și Occult Black Death Metal Festival 5 și încă prepară mai multe pentru viitor. Încă un full-length este în pregătiri (vezi

Erotomysticism
), în care se vor regăsi contribuții ale lui T. Karlsson, C. Johnsson, T. Eriksson. Ținând cont de îmbunătățirile aduse cu fiecare lansare, sunt mai mult decât dornică să privesc către incarnările viitoare ale trupei.